Dialogue on sustainable trade and peatland management for emissions reduction and community livelihoods
Courtesy of Salwa Nadhira
On 10 November 2021, together with the UN Environment Programme's World Conservation Monitoring Centre (UNEP-WCMC) and GCRF Trade, Development and the Environment Hub (TRADE Hub), CIFOR-ICRAF hosted a session in the Indonesia Pavilion during the COP 26 summit to discuss sustainable trade and peatland management for emissions reduction and community livelihoods. Held in coordination with Indonesia's Ministry of Environment and Forestry (MoEF), the session aimed to provide a comprehensive understanding of current approaches for addressing tropical forest sustainability, emissions reduction and associated issues in Indonesia; facilitate cross-learning and knowledge sharing; and identify transformative innovations and approaches for sustainable trade, peatland management and ecological restoration. The approaches discussed during the session, which included community-based peatland restoration, carbon trading, and sustainable agriculture commodity trade, can all contribute to biodiversity conservation, community livelihood enhancement and emissions reduction.
The session was opened by moderator, Dr Niken Sakuntaladewi from MoEF's Instrument Standardization Agency. This was followed by a keynote address from Prof. Neil Burgess, Chief Scientist of UNEP-WCMC and Principal Investigator of GCRF TRADE Hub. During his address, Prof. Burgess informed the audience of the objectives of and progress made in TRADE Hub Indonesia's research activities. He also said he was heartened by progress made during summit negotiations in discussing the strong relationship between agricultural commodity supply chains and deforestation, and the increasing synergy between solutions proposed for addressing biodiversity conservation and climate change.
Policy aspects associated with supply chains were then raised in material delivered by Prof. Elizabeth Robinson, Director of the London School of Economics' Grantham Institute on Climate Change and the Environment, who highlighted contradictory policies in the European Union, with some trying to reduce palm oil consumption while others encourage the opposite.
Simon Tay, Chairman of the Singapore Institute of International Affairs suggested the need for sound government policies to support carbon pricing, carbon markets and nature-based solutions as climate action strategies for the ASEAN region.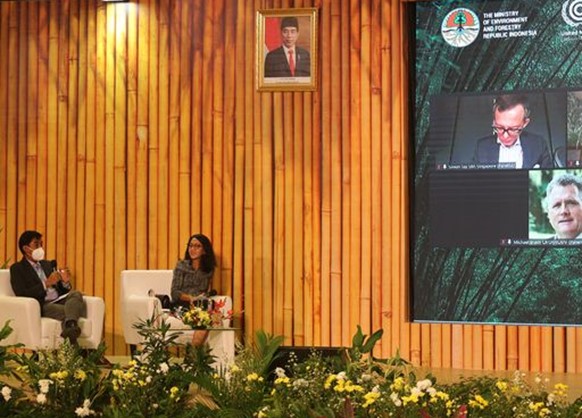 Dr Michael Brady, Principal Scientist and Leader of the Value Chains, Finance and Investments research group at CIFOR-ICRAF, then discussed regional cooperation, explaining the importance of a mutually agreed political basis for ASEAN member states to cooperate in the sustainable management of Southeast Asian peatlands – which make up 38% of the world's tropical peatlands – as part of the region's climate change mitigation efforts. He cited the ASEAN Agreement on Transboundary Haze Pollution as an example of member states' cooperation in a policy framework requiring them to monitor, provide information and institute legislation.
Prof. Herry Purnomo, scientist at CIFOR-ICRAF and IPB University who is also a Co-Investigator of GCRF TRADE Hub and a Country Coordinator for the Indonesia Hub, illustrated efforts required for Indonesia to realize its pledge for forests to become net carbon sinks by 2030. Using TRADE Hub simulations, he showed business-as-usual in Indonesia's palm oil trade would lead to increases in the area of oil palm plantations, 15.6% of which are already located on peatlands. He suggested that public and private commitments such as those in South Sumatra could decrease deforestation. He also outlined the importance of land swaps for selected oil palm plantations to protect peatlands; promoting jurisdictional approaches in oil palm cultivation; and strengthening and facilitating community enterprises.
Tiur Rumondang, Director of Assurance and Acting Head of Indonesia Operations at the RSPO Global Secretariat, then explained the importance of RSPO certification in reducing emissions from oil palm plantations. She went on to explain that while many large palm oil corporations in Indonesia are already RSPO certified, there is still much work to do in addressing legality issues and establishing groups as prerequisites for independent smallholder certification.
Following the presentations, audience members were welcomed to address any questions they had to the speakers. The session concluded with closing statements from the speakers and event moderator. An additional 125 participants representing academic institutions, government organizations, NGOs, research institutions and civil society organizations attended the session online.
A video recording of the Indonesia Pavilion event can be viewed through YouTube here, and further discussion is available on our science blog here.