Under the Trade, Development and the Environment Hub (TRADE Hub) – a global research consortium led by the UN Environment Programme World Conservation Monitoring Centre (UNEP WCMC) and supported by UK Research and Innovation Global Challenges Research Fund (UKRI GCRF) – the Center for International Forestry Research (CIFOR), IPB University, and the University of Indonesia's Research Center for Climate Change (RCCC-UI) are conducting research to further understand the complexities of, challenges to, and potential solutions for sustainable palm oil trade.
This high-level dialogue was an integral part of TRADE Hub's research in Indonesia and a platform to bring key stakeholders and experts together to discuss issues and potential solutions for sustainable palm oil trade in Indonesia in light of global challenges surrounding food and energy crises. The objectives of the dialogue were: 
To understand recent phenomena and complexities in the palm oil trade, such as price fluctuations, and why these are happening;
To discuss strategies for dealing with global challenges such as climate and food crises, and world economic recession; 
To disseminate TRADE Hub findings and research results. 
The event, which began with opening session before commencing with three high-level panel discussions, was attended by 134 in-person participants, including key high-level stakeholders in Indonesia's palm oil sector. In addition, more than 600 participants registered to join the policy dialogue online.
Following the event's opening by MC Dyah Puspitaloka from CIFOR-ICRAF, Prof Dr Herry Purnomo, CIFOR Indonesia Deputy Country Director and professor at IPB University gave an introduction to GCRF TRADE Hub research. During his presentation, Prof. Herry highlighted key findings from the research, one of which identified the huge importance of green buyers to palm oil trade sustainability.
Prof. Dr Arif Satria, Rector of IPB University, then delivered his welcoming remarks during which he conveyed his institution's continuing support for and contribution to sustainable palm oil practices through its core competence, expertise and research agenda. Prof. Arif explained that as a fellow member of TRADE Hub, IPB has been developing smart farming innovations and technologies in its Aquamaritime 4.0 research agenda through the application of Precipalm; a precision agriculture-based decision support system for determining oil palm fertilizer needs. 
During his opening remarks, CIFOR Director General Dr Robert Nasi said the characteristics of palm oil and the peculiarity of its trade make it a product of great importance both now and in the foreseeable future. This necessitates addressing questions relating to the environmental, social and economic pillars of palm oil sustainability. He emphasized that dialogues such as this are now more critical than ever for ensuring palm oil will be produced sustainably in future and accord with various pieces of legislation being developed.
Prof. Dr Neil Burgess, Principal Investigator for GCRF TRADE Hub and Chief Scientist with UNEP WCMC, hoped the high-level dialogue would generate proposals on how to tackle pressing issues in relation to sustainable palm oil, such as its position and role in regard to the challenges of climate change, global food security and smallholder farmer livelihoods.
In his opening remarks, Ir. Ary Sudijanto MSE, Head of the Environment and Forestry Instruments Standardization Agency under the Indonesian Ministry of Environment and Forestry highlighted the prominent role oil palm business standards can play in achieving sustainability. He hoped the dialogue could provide insights and recommendations on how environmental sustainability can be incorporated into implementation standards for oil palm plantation development, particularly in light of challenges such as the climate crisis. He said this is closely linked to low-emission development efforts where implementation standards and instruments are needed to support sustainable practices.
Dr Mego Pinandito, M.Eng., Deputy of Development Affairs at the Indonesian Research and Innovation Agency delivered his opening remarks feeling optimistic that as the world's largest CPO producer, Indonesia can play an important role in overcoming palm oil-related challenges by looking at opportunities with smart thinking and a systematic approach. He expected the dialogue to be an important forum for government agencies, business associations, private sector practitioners, academics and researchers as it would provide a platform to promote collaboration on innovations relating to palm oil, sustainable development goals and climate change. 
During his keynote speech, Dr Bandung Sahari from the Indonesian Palm Oil Association (GAPKI) discussed the role of the private sector in global trade of sustainable palm oil. He stated that Indonesia's palm oil industry supports the Indonesia Sustainable Palm Oil (ISPO) initiative through its no burning and no deforestation commitments. He went on to say that private sector operators are also implementing sustainable peat management, protecting high conservation value areas, and respecting human rights.
Dr Musdhalifah Machmud, Deputy Director of Food and Agribusiness under the Indonesian Coordinating Ministry for Economic Affairs then followed with a speech on the role of Indonesian sustainable palm oil in light of the global food and economic crisis. She explained the need to strengthen palm oil's competitiveness and gain wider market recognition of Indonesia's sustainability commitments. She also said that while it remains essential to increase investments in innovation, there is a fundamental need to improve smallholder farmers' capacity to implement sustainable practices.
Opened by panel discussion moderator Sara Wayne, the first session focused on palm oil price fluctuations and supply chains. Speakers on the panel were Oke Nurwan, Dipl., Ing., Special Staff for Export Improvement and Foreign Trade Development under the Indonesian Ministry of Trade; Agus Purnomo, Senior Advisor on Sustainability for Golden Agri Resources Ltd; Maria Goldameir Mektania from the Indonesian Palm Oil Farmers Association (APKASINDO); Nurhanudin Achmad Surambo, Executive Director of Sawit Watch; Prof. Dr Bustanul Arifin from Lampung University; and Desriko Malayu Putra from the Sustainable Districts Association (LTKL). During the discussion, the panellists first addressed the question of fluctuating global palm oil prices and national concerns over cooking oil prices and climate change mitigation efforts. Factors identified as influencing palm oil price fluctuations included a global fall in vegetable oil production, disruptions to supply due to conflicts or wars, climate change and weather anomalies, policy changes in buyer countries, and the use of vegetable oils for biofuels.
Meanwhile, identified impacts of global palm oil price fluctuations and climate change included a rise in cooking oil prices; decreased yields and productivity, particularly among independent smallholders; and the development of mitigation and adaptation strategies via certification instruments and sustainability standards. In addition, the panellists identified several issues in palm oil supply chains and governance including a lack of regulations governing global trade CPO for food and fuels, including at the site level; gaps in sustainability systems; the vulnerability of smallholders; and the rights and well-being of oil palm labourers.
The discussion concluded with a talk on potential measures for key palm oil sector stakeholders in Indonesia to implement in order to address the impacts of price fluctuations. These included addressing an expected boom in production due to yield improvements; working at the subnational level to secure "good prices" despite oversupply; and discussing benefit sharing mechanisms for certification (e.g., audit costs).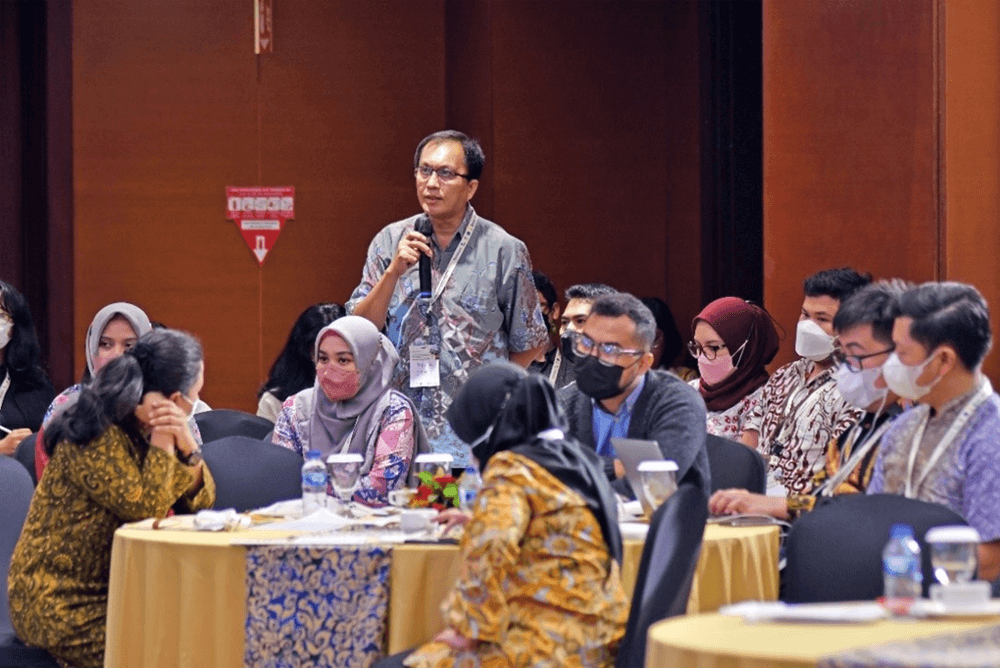 During the second session, Wisnu Lombar Dwinanto from the Directorate General of Multilateral Cooperation under the Indonesian Ministry of Foreign Affairs; Irene Fischbach, RSPO Director of Stakeholder Engagement and Communications; Prof. Dr Herry Purnomo of CIFOR-ICRAF and IPB University; and Diah Suradiredja from Yayasan KEHATI's Strengthening Palm Oil Sustainability (SPOS) programme discussed global food and energy crises and their impacts on the palm oil sustainability roadmap. Four key drivers of the current fragile state of the global supply chain were identified: conflict, harvest failure, poverty and inequality. However, despite these disruptions, positive trends were identified with increases in product certification and sustainability commitments. Unfortunately, this fragile state may impact harder on disadvantaged groups. Similar to the previous session, this discussion led to suggestions on potential measures for implementation by key global and national stakeholders to address palm oil sustainability in light of global food, energy and climate crises. More and more collaboration is critical, as are further dialogues on trade and markets, transparency, traceability, research and innovation. All actors were counted on to keep meeting sustainability criteria, including adhering to sustainability standards, and support continuing work to ensure global recognition of national standards and cost-sharing initiatives. Other measures suggested included eliminating "bad actors", extending market of certified products, and accelerating ISPO certification for smallholders. 
In the third session, Prof. Suria Tarigan from IPB University; Beatriz Fernandez from UNEP; Mansuetus Darto from the Secretariat-General of the Palm Oil Farmers Union (SPKS); Sonya Dyah Kusumadewi, Research Officer at CIFOR-ICRAF; and Violace Amalia Putri, Sustainable Supply Chain Portfolio Development Manager at IDH – The Sustainable Trade Initiative, Indonesia discussed the environment and livelihoods of people facing climate and food crises and a global economic recession. During the discussion, it was argued that for environmental sustainability in the oil palm sector to be able to contribute to addressing global crises (climate, food and energy), more discussions are needed on issues beyond climate and deforestation (land-use change) and linking plantations to food systems through innovation with more attention paid to intercropping, biodiversity enrichment in plantations, etc. The expectation was that concerted efforts could help support the livelihoods of smallholders, who are highly vulnerable to impacts such as water scarcity and increased pest infestations, both of which can lead to growing numbers of poor households. Potential measures proposed for tackling these challenges included increasing resilience, capacity building on Good Agricultural Practices (GAPs), and reconciling policies and actors through a landscape approach. 
After the moderator closed the panel discussions, Prof. Dr Iskandar Zulkarnaen Siregar from IPB University led a wrap-up session. As a follow-up to the policy dialogue, TRADE Hub Indonesia plans to hold a multistakeholder roundtable discussion to further discuss issues, strategies and possible joint actions. Facilitated by senior journalist Brigitta Isworo Laksmi, participants were asked to suggest the most important issues to address in further discussions.
Prior to the main event on 30 August, CIFOR-ICRAF organized an interactive discussion with reporters the previous day. The aim of the discussion was to prime reporters in advance with literature on the high-level dialogue. The session, attended by 21 reporters, was moderated by independent journalist, Jackson Agun. Five topics were discussed during the event: Prof. Dr Herry Purnomo of CIFOR-ICRAF delivered material entitled "Introduction to the project and its results"; Agus Purnomo, Senior Advisor on Sustainability for Golden Agri Resources Ltd. then provided material on palm oil trade supply chains; Dyah Puspitaloka from CIFOR-ICRAF outlined her team's research into actors in Indonesia's palm oil trade; Prof. Dr Suria Tarigan from IPB University led a discussion on sustainable oil palm plantations; and in closing, senior journalist Brigitta Isworo Laksmi talked about sustainable palm oil from a journalist's perspective.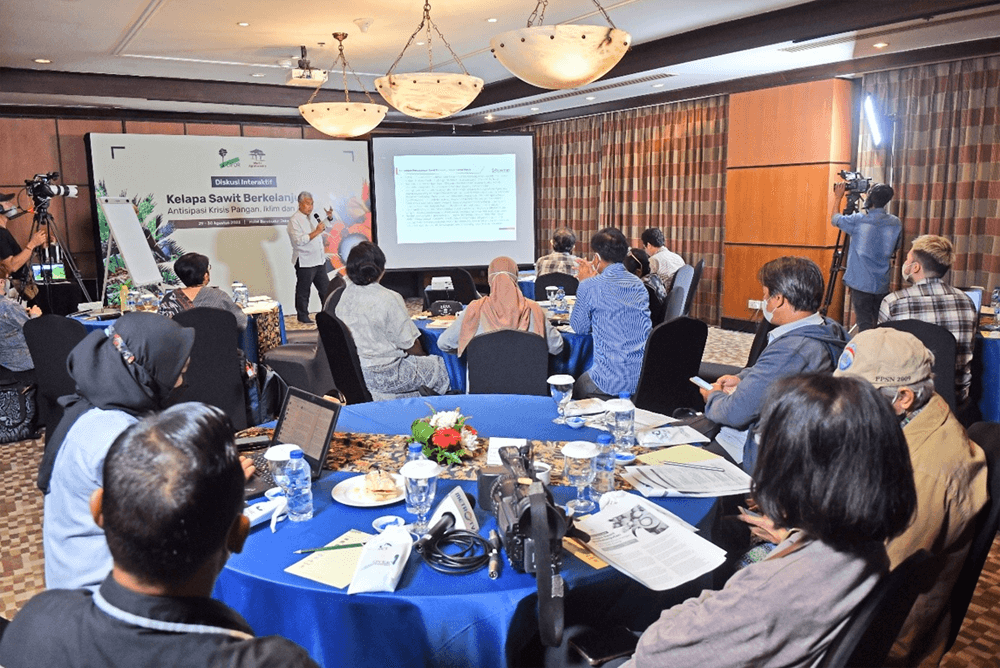 For a recording of and materials from the event, please visit https://www.cifor-icraf.org/event/palm-oil-and-environmental-sustainability-facing-food-climate-and-energy-crises/
For further information on TRADE Hub events and projects, please contact Sonya Dyah Kusumadewi (s.dyah@cgiar.org).