An independent evaluation of the Global Comparative Study on Forest Tenure Reform (GCS Tenure) found that one approach is particularly effective at helping different stakeholders find common solutions.
Funded by the European Commission and the Global Environment Facility, with technical support from IFAD and the Food and Agriculture Organization of the United Nations (FAO), GCS Tenure conducted research in Indonesia, Peru and Uganda, and to a lesser extent in Colombia, the Democratic Republic of the Congo, Kenya and Nepal.
In Uganda, forest tenure reforms have leaned towards forest protection, rather than strengthening and securing community forest tenure rights. To document people's experiences and find options to strengthen tenure security, researchers conducted household surveys, focus group discussions and key informant interviews in four districts representing four types of tenure regimes. And through Participatory Prospective Analysis (PPA) workshops – including women-only workshops – participants from local and national government, non-governmental organizations (NGOs), local communities and academia were able to assess a problem, identify its drivers, develop scenarios on how it might evolve, and agree on solutions.
Rights and empowerment
Madagascar may fail to meet its ambitious restoration commitments under the Bonn Challenge unless it takes steps to formally recognize customary tenure, suggests exploratory research by CIFOR and the University of Antananarivo's École Supérieure des Sciences Agronomiques-Forêts (ESSA- Forêts). The Malagasy government is working to recognize customary tenure arrangements, but communities that are currently 'invisible' will also need to be empowered to take the hard work of restoration into their own hands.
Securing community rights to forests and land, for women and men, is essential for livelihoods and justice and to address climate change.
Anne Larson
Team Leader, Equal opportunities, gender justice and tenure
---
Related links
---
Forests News
Video
Publication
Photo
Website
Forests, people and the SDGs
CIFOR had a strong scientific presence at the IUFRO conference in Curitiba, Brazil. The launch of a new book, co-edited by senior associates Carol Colfer and Pablo Pacheco with several CIFOR authors contributing, explored the potential impact that attaining the Sustainable Development Goals could have on forests and people.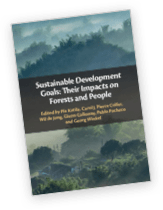 Project info
---
Project
Global Comparative Study on Forest Tenure Reform (GCS Tenure)
Country
Indonesia, Peru, Uganda (plus Colombia, Kenya and Nepal)
Funding partners
European Commission, Global Environmental Facility (GEF), International Fund for Agricultural Development (IFAD), Food and Agriculture Organization of the United Nations (FAO), and the CGIAR Research Programs on Policies, Institutions and Markets (PIM) and on Forest, Trees and Agroforestry (FTA), which are supported by the CGIAR Trust Fund
CIFOR focal point
Anne Larson, Principal Scientist and Team Leader, Equal opportunities, gender justice and tenure