A new series of stories jointly produced by the Center for International Forestry Research (CIFOR) and World Agroforestry (ICRAF) highlight some  key "engagement landscapes" and new "transformational partnership platforms." They will shed light on CIFOR-ICRAF efforts in a range of geographical locations.

Developing resilience is an approach intended to capture the complexity of landscapes, address conflicting land uses and different layers of governance, while working with various stakeholders, farmers and value chain actors. "Engagement landscapes" and "transformational partnership platforms" are expansive, long-lasting, people-led, nature-positive, action-oriented, science-informed, multi-partner undertakings that are concentrated in a defined geographical location to repair damaged ecosystems, and address poverty and malnutrition.

The series will delve into some of the ways CIFOR-ICRAF aims to deliver solutions following the release of a new 10-year strategy, by taking a unique approach to evidence-based research, technologies, advisory services and partnerships. Through transformative science, CIFOR-ICRAF addresses the complex ways in which people and ecological systems affect each other.
FORESTS NEWS
11 August 2020
FORESTS NEWS
17 January 2020
FORESTS NEWS
14 March 2019
Videos
Yangambi: Where history becomes the future
Yangambi pôle de Développement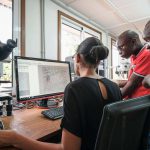 PREV
NEXT