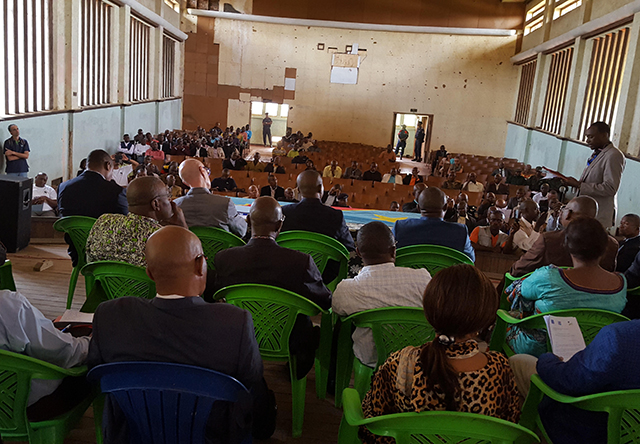 March 8 was unusual for those residing between Kisangani and Yangambi, as they thronged the road waving at the cars passing en route to the launch of the "Training, Research, Environment in the Tshopo", or FORETS, project. It was a busy day for the governor and president of the provincial assembly, who stopped many times to talk with people along the way.
The launch took place in the amphitheater of the National Institute of Agricultural Studies and Research (INERA) – where spectators were already on standby. The speeches, especially from various national representatives, indicated how much local residents' hopes were intertwined with the project created with the aim of improving their lives.
In a speech at the launch, European Union Ambassador M. Bart Ouvry underscored the unique potential of the rich natural resources present in the Democratic Republic of Congo (DRC) that could be a springboard for economic growth. He said that though the FORETS project is intricately linked to the global challenge of climate change, "our presence here is first and foremost for the well-being of the Congolese, to preserve and add value to a natural capital of international renown."
There is a symbiotic relationship between the people of Yangambi and their forest that should not be overlooked in the various project activities, he said.
Center for International Forestry Research (CIFOR) Deputy Director General Robert Nasi underscored the crucial and indispensable role the DRC plays in the Congo Basin, both in terms of forest cover and population in climate change-related issues.
He said that the activities of the FORETS project will be carried out in the true CIFOR spirit of partnership and synergy with other institutions and organizations to ensure that outcomes are achieved.
The European Union-funded project will focus efforts in two areas: a 250,000-hectare UNESCO reserve and its surroundings at Yangambi, which are rich in biodiversity but subject to multiple pressures, and the Faculty of Sciences at the University of Kisangani, where Master's and PhD students are trained in various fields of the forest and environmental sectors.
The launch was attended by more than 100 representatives from various related ministries, research institutes, national and international organizations and civil society organizations.
For more information about the University of Kisangani and CIFOR's work there, please see this link.